<!— Sidebar-->
Honoring 16 startups at the closing ceremony of the first Ostad Mohammad-Karim Fazli Startup Awards
September 6, 2021
Honoring 16 startups at the closing ceremony of the first Ostad Mohammad-Karim Fazli Startup Awards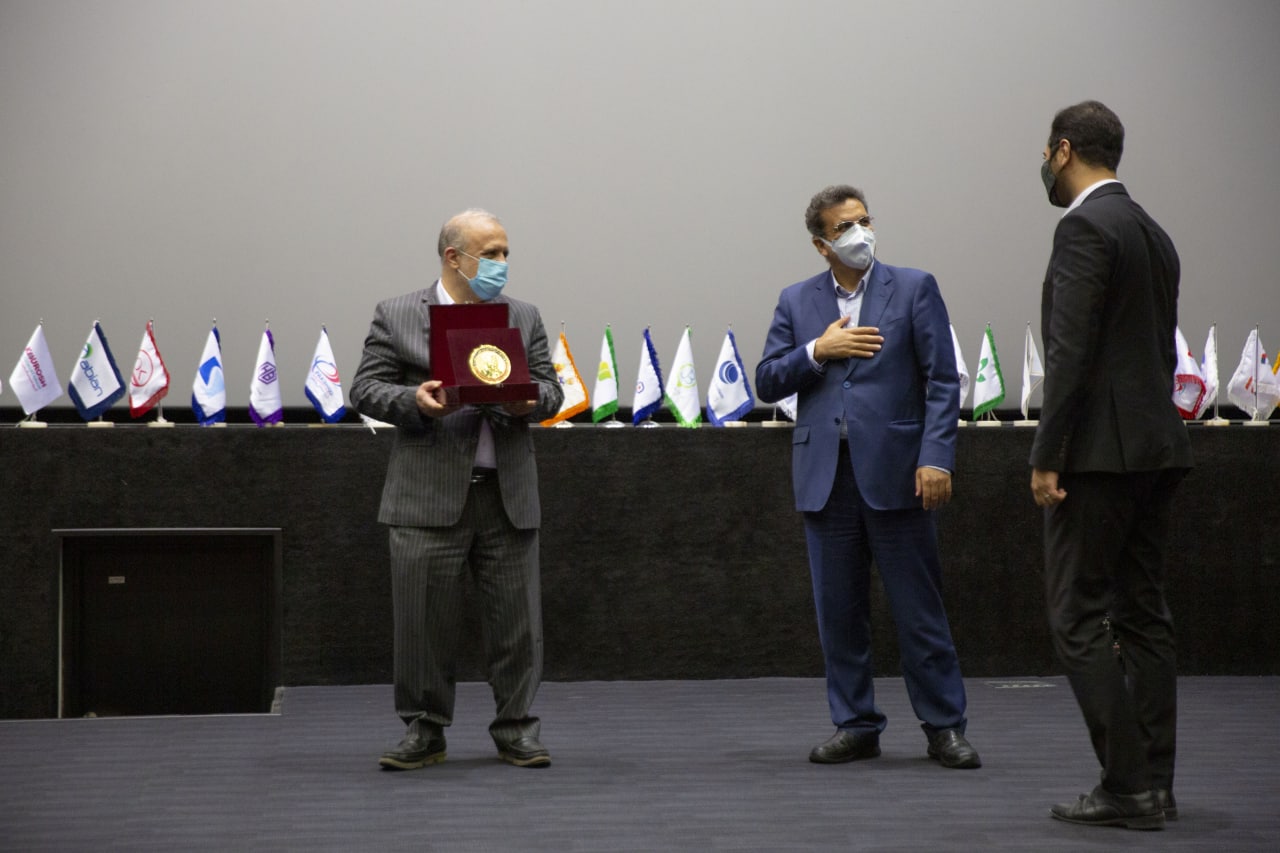 The closing ceremony of the first Ostad Mohammad-Karim Fazli Startup Awards was held at Kourosh Cineplex on Sunday evening August 08, 2021.
Dr. Ebrahimi – Member of Golrang Industrial Group Board of Directors, CEO of Kourosh Investment Group Sub-Holding, Dr. Goodarzi – Vice President of Strategic Development of Golrang Industrial Group, the experts and jury members of the event, Golrang University staff, a number of the Golrang Industrial Group managers and the event's award winners attended the ceremony.
The event was simultaneously followed online by the enthusiasts and senior managers, such as Dr. Mehdi Fazli, Chairman of the Board of Directors and CEO of Golrang Industrial Group and Dr. Maryam Fazli, Chairperson of Golrang University Board of Directors and CEO of Arian Tejarat Shargh Company.
In a part of the ceremony, Dr. Ebrahimi, read the speech text of Dr. Fazli, on his behalf.
In his speech, Dr. Fazli stated, "In my opinion, the startups relying on their scalable nature and very high growth potential provide this chance for our economy to take part and operate in modern businesses much more rigorously. Therefore, having faith in the power, efficiency, capability and effectiveness of startup businesses in creating job opportunities, through Ostad Mohammad-Karim Fazli Awards, we are seeking to fulfill our national mission of preserving physical and specifically human capitals of our dear country. And in this way, having the international export markets as our target, via supporting the startup and knowledge enterprises, we are trying to create golden opportunities for national economy in global arenas".
In his speech, the CEO of Golrang Industrial Group appreciated the entrepreneurs who had participated in the first Ostad Mohammad-Karim Fazli Startup Awards gala in 2021 and expressed hope, "With the help of you professional and committed young people, I hope to become more and more successful in the globalization of Iranian businesses".
Dr. Goodarzi, was another speaker at the event. He stated, "Right now, collaborating with knowledge enterprises and scientific centers and with its human capitals and potentials, Golrang Industrial Group has taken very significant steps. Here, I will enumerate some of the interests and trends that Golrang Industrial Group pursues, which the startups can consider:
the concept of phygital which is to do with the combination of the physical and digital space.
Biotechnology, batteries, electric cars and self-driving cars, renewable/alternative energies, electric motors with high power and lightweight, management dashboards and integration and merger of businesses, new business models -the ones that are compatible with modern cultures, like the clusters pursuing the same great goal despite their far distance".
In the following, the selected startups' names and business lines are presented:
Save App/Elderly care
Karboom/ active and innovative website platform in the area of human resources
Navgano-Didbano/ providing comprehensive organizational solutions based on artificial intelligence
Picto/ A digital city
Aftab/ Online education
Karjoo plus/ Human resources services
Sensocose/ Blood glucose monitor
Sokhan/ Artificial intelligence and speech processing
Smart life/ Antioxidant and alkaline products to boost immune system and great improvement of drinking water quality
Smart runners/ Sports
Logico/ Fleet management software
Boghrat/ Boghrat web application, a healthcare platform
Ramona/ Producing new security software based on artificial intelligence
Panta oxide vanadium (Vanadium (v) Oxide)/ Extracting heavy metals from bitumen
Nano Zinc Supplement/ Making products based on advanced chemical technology and nano technology
Trading Expert/ Arbitrage in virtual currency
It is worth mentioning that considering the constant growth and importance of startup businesses in the country and their extensive role in creating job opportunities, Ostad Mohammad-Karim Fazli Awards ceremony was held in the following areas to honor Golrang Industrial Group that is the real and legal activist of Iranian startup ecosystem:
Startup businesses in virtual environment
Startup businesses in real environment
Knowledge-based businesses
<!— End Sidebar-->