<!— Sidebar-->
Golrang Industrial Group & Mellat Bank sign a cooperation agreement to strengthen the reciprocal collaborations and common interactions
May 16, 2018
Golrang Industrial Group & Mellat Bank sign a cooperation agreement to strengthen the reciprocal collaborations and common interactions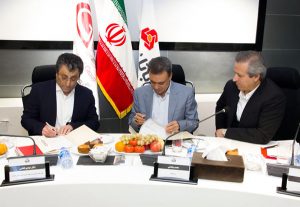 By virtue of this agreement, signed by Dr.Fazli ( CEO of the Golrang Industrial group) and Dr. Bigdeli (CEO of Mellat Bank), the banking interactions and reciprocal collaborations will be increased through presenting special banking services to Golrang Industrial Group and its member companies.
According to this agreement, Mellat Bank will present Golrang Industrial group with variety of services, including small and special electronic banking services, credit and investment services, providing capital and agency, as well as various currency exchange services. This agreement is valid for three years and could be extended upon the mutual agreement of both parties.
During this meeting, Dr. Fazli, CEO of the Golrang Industrial group, had stated this agreement to be a friendly collaboration on the basis of logic. He then assured: "We are moving rapidly to the international market, and with a methodical schedule, the export volume of Iran will be increased".
Mentioning the international competitors, the CEO of Golrang Industrial Group noted: "The stakes are high in the international market; and the competitors all have experiences of tens of years".  He then added: "We are looking to get a part from international market. We hence shall benefit from foreign currency reserves, in a way that puts us in similar condition to our strong foreign competitors.
Hoping to increase actions in the foreign market through this agreement, the CEO of the Golrang Industrial Group expressed: "We are hoping to attain desirable developments in all provisioned sectors".
During this meeting of agreement signing, the CEO of Mellat Bank, had noted Golrang Industrial Group as one of the distinguished economic groups of the country, which has done effectively in providing jobs.
Dr. Bigdeli considered supporting large industrial groups similar to Golrang a hard task which could not be done by any bank. He then stated: "Management of Golrang Industrial Group is a difficult task, which makes its financial supporting a hard process. Not any bank can handle such obligations, but Mellat Bank, with regard to its potencies, can give services to large customers and easily support economic groups of the country, including Golrang".
Mallat Bank CEO then continued: "Signing this agreement and collaboration will be a cause to increase our share in helping Golrang Industrial Group in a daily and yearly basis".
Stating the importance of creating jobs by the administration, Dr.Bigdeli announced: "Golrang has a good name in Iran economy, and in the year of Resistance, Production and Job Creation, and to observe the regulations given by the government, it is our duty  to support such industrial groups  which already have participated in production and job creation of the country".
Mellat Bank was ranked first amongst all Iranian Banks by the Iran credit grading company on December of this year.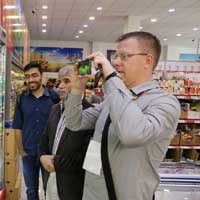 July 17, 2018
A delegation of 15 members from European producers and economic operators and the representative supervisor of the European Union, visited […]
<!— End Sidebar-->